FilmCrave Points
| Activity | Points |
| --- | --- |
| Total Ratings | 102 |
| Total Reviews | 16 |
| Total Lists | 7 |
| Total Plots | 4 |
| Total Points | 245 |
Latest Friends
Supercrum's Information
Ranking Status: Rising Star
Name: Adam Crum
Gender: Male
Current Area: Orange, CA
Home Town: Orange, CA
Education: "I learned all I know from watching T.V.!"
Employer: Broadcom Corporation
Position: Data Systems and Administration
About Me: CRUM!, a misguided and scatterbrained 22 year old child from Orange County who draws inspiration out of every orafice of the automobile wreck called life... " I love film, and in many different genres to boot. Horror, Sci-fi, Action, Comedy and Indie films are my personal favs, but Im sure quick to identify and appriciate creative and original writing in any screenplay you throw my way. Im currently a graphic-design major and creative writer, and plan on attending CSUF in a few years to further advance my art and writing persona.
Interests: Film • Deathmetal • Zombies • Comics • Clad Women • Food • Video Juegos • and Saturday Morning Cereal.... (not necessarily in that order)...
Movie Profile
Film I Love: "Donnie Darko: Directors Cut"
Film I Hate: any movie by Uwe Ball
Guilty Pleasure: all my pleasures are guilty...
Favorite Genre: Horror
Least Favorite Genre: Sport
Favorite Actors: Kevin Spacey, Edward Norton, Christian Bale, Brad Pitt
Least Favorite Actors: Shaquille o' Neal, Jennifer Lopez, Casper Van Dien, Colin Ferrell
Favorite Director: Danny Boyle
Least Favorite Director: Uwe Ball
Movie Quotes: "Fucking men like you built the hydrogen bomb. Men like you thought it up. You think you're so creative. You don't know what it's like to really create something; a life; to feel it growing inside you. All you know is death." - T2

"For a vegetarian, Rents, you're a fuckin' EVIL shot!" - TRAINSPOTTING

"Humans... and how I love you talking monkeys for this... know more about war and treachery of the spirit than any angel." - THE PROPHECY
Latest Movie Review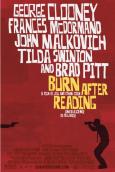 Burn After Reading
Sadistic Comedy of Flawed Folk

This hilarious cast is strong with Pitt and Clooney as fitness jerk imbeciles, Malkovich being a victimized time-bomb of aggression and McDormand, an interesting mixture of quirky and vain; Burn After Reading is a dark comedic blend much to the likes of the Coen's earlier works. Although unnecessarily violent at times, the comedic capers of missing CIA memoirs fail to disappoint throughout its 96 minute runtime. In the end, Burn After Reading is about absolutely nothing which cleverly seems to say loads about everything.
Recent Comments