FilmCrave Points
| Activity | Points |
| --- | --- |
| Total Ratings | 900 |
| Total Reviews | 114 |
| Total Lists | 34 |
| Total Plots | 4 |
| Total Points | 1,570 |
Latest Friends
Nick's Information
Ranking Status: Producer
Name: Nick Barry
Gender: Male
Current Area: Lincoln, NE
Home Town: Lincoln, NE
Education: Bachelor degree in business administration and computer science.
Employer: University
Position: Developer - I develop websites!
About Me: I am one of the founders of Filmcrave.com
Interests: Movies, music, fast cars, sleeping, beer. Basically the necessities of life.
Movie Profile
Film I Love: Gone In 60 Seconds
Film I Hate: Rubber
Guilty Pleasure: Super Troopers
Favorite Genre: Adventure
Least Favorite Genre: Western
Favorite Actors: Nicolas Cage, Keira Knightley, Angelina Jolie, Steve Buscemi
Least Favorite Actors: David Hasselhoff, Rosesane Arnold, Rosesane Arnold, Rosesane Arnold
Favorite Director: Quentin Tarantino
Least Favorite Director: Rosesane Arnold
Movie Quotes: Mac: "Hey Farva what's the name of that restaurant you like with all the goofy shit on the walls and the mozzarella sticks?" Farva: "You mean Shenanigans?" Mac: "OOOOOOOOOOO." -- Super Troopers

If his unpleasant wounding has in some way enlightened the rest of you as to the grim finish beneath the glossy veneer of criminal life, then his injuries carry with it an inherent nobility, and a supreme glory. We should all be so fortunate. -- Sphinx

Ask any racer, any real racer. It doesn't matter if you win by an inch or a mile; winning's winning. -- The Fast and the Furious
Latest Movie Review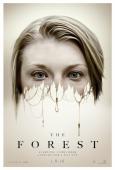 The Forest (2016)
The only thing that makes this movie decent is Natalie Dormer.
Recent Comments