FilmCrave Points
| Activity | Points |
| --- | --- |
| Total Ratings | 2,105 |
| Total Reviews | 354 |
| Total Lists | 11 |
| Total Plots | 14 |
| Total Points | 3,464 |
Latest Friends
SIngli6's Information
Ranking Status: Producer
Gender: Male
Movie Profile
Film I Love: 2001: A Space Odyssey
Film I Hate: Aaaaaaah!
Guilty Pleasure: The Boys from Brazil
Favorite Genre: Horror
Least Favorite Genre: Musical
Favorite Director: Stanley Kubrick
Least Favorite Director: Steven Soderbergh
Movie Quotes: Norma Desmond: "I *am* big. It's the *pictures* that got small."

President Merkin Muffley: "Gentlemen, you can't fight in here! This is the War Room!"

Inspector Andre: "To be with another woman, that is French. To be caught, that is American."
Latest Movie Review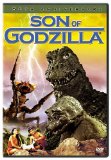 Son of Godzilla ( Kaijûtô no kessen: Gojira no musuko )
Godzilla's re-animated stillborn progeny makes me beg for blindness in the worst film of the franchise since Godzilla, King of the Monsters.
Recent Comments