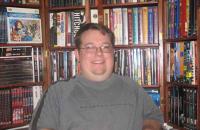 FilmCrave Points
| Activity | Points |
| --- | --- |
| Total Ratings | 3,665 |
| Total Reviews | 3,556 |
| Total Lists | 63 |
| Total Plots | 7,243 |
| Total Points | 25,122 |
Latest Friends
Chris Kavan's Information
Ranking Status: Movie God
Name: Chris Kavan
Gender: Male
Current Area: Lincoln, NE
Home Town: Wahoo, NE
Education: Bachelor's Degree Print Journalism.
Employer: Simons Home Store
Position: Retail Sales Representative - Selling things is my day job. FilmCrave is my life.
About Me: I'm the shortest person on Film Crave. I love anime, a good book and serialized TV dramas.
Interests: Reading - horror, sci-fi, manga. Collecting too many things to list. Movies (of course). Mixology (specializing in vodka).
Movie Profile
Film I Love: Star Wars
Film I Hate: (Most) Remakes, Video Game Adaptations, Movies based on TV shows or SNL sketches
Guilty Pleasure: The Many Films of Nicholas Cage and Super Troopers
Favorite Genre: Thriller
Least Favorite Genre: Romance
Favorite Actors: Edward Norton, Brad Pitt, Sam Rockwell, Clint Eastwood
Least Favorite Actors: Whoopi Goldberg, The Wayans Bros., Roseanne Barr, Rob Schneider
Favorite Director: Stanley Kubrick
Least Favorite Director: Uwe Boll
Movie Quotes: Do or do not. There is no try.

The greatest trick the devil ever pulled was convincing the world he didn't exist.

The dude abides.
Latest Movie Review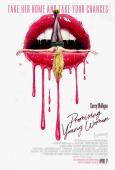 Promising Young Woman
If sweetly psychotic was a mood, Carey Mulligan nails it in this finely-crafted revenge tale about the far-reaching damage that can happen from incidents that are far too common and, as the film deftly lays out, often swept under the rug. If it makes you feel uncomfortable - good, I think that's the point and if if makes some people do a bit of self-reflection, that's not so bad, either.
Recent Comments