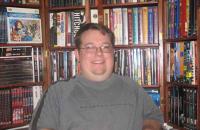 FilmCrave Points
| Activity | Points |
| --- | --- |
| Total Ratings | 3,599 |
| Total Reviews | 3,493 |
| Total Lists | 62 |
| Total Plots | 7,071 |
| Total Points | 24,495 |
Latest Friends
Chris Kavan's Information
Ranking Status: Movie God
Name: Chris Kavan
Gender: Male
Current Area: Lincoln, NE
Home Town: Wahoo, NE
Education: Bachelor's Degree Print Journalism.
Employer: Simons Home Store
Position: Retail Sales Representative - Selling things is my day job. FilmCrave is my life.
About Me: I'm the shortest person on Film Crave. I love anime, a good book and serialized TV dramas.
Interests: Reading - horror, sci-fi, manga. Collecting too many things to list. Movies (of course). Mixology (specializing in vodka).
Movie Profile
Film I Love: Star Wars
Film I Hate: (Most) Remakes, Video Game Adaptations, Movies based on TV shows or SNL sketches
Guilty Pleasure: The Many Films of Nicholas Cage and Super Troopers
Favorite Genre: Thriller
Least Favorite Genre: Romance
Favorite Actors: Edward Norton, Brad Pitt, Sam Rockwell, Clint Eastwood
Least Favorite Actors: Whoopi Goldberg, The Wayans Bros., Roseanne Barr, Rob Schneider
Favorite Director: Stanley Kubrick
Least Favorite Director: Uwe Boll
Movie Quotes: Do or do not. There is no try.

The greatest trick the devil ever pulled was convincing the world he didn't exist.

The dude abides.
Latest Movie Review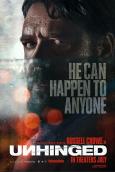 Unhinged
When I first saw the trailer and premise for this film, I couldn't help but be reminded of another story of a man pushed over the brink by circumstances - the 1993 Michael Douglas film Falling Down. But Unhinged is far more brutal - perhaps mirroring our current time - and Russell Crowe is truly menacing form as a, well, unhinged dude. He's like the anti-gladiator here, but I still wouldn't want to get in his way - subtle this film is not - entertaining, of course.
Recent Comments