FilmCrave Points
| Activity | Points |
| --- | --- |
| Total Ratings | 114 |
| Total Reviews | 55 |
| Total Lists | 14 |
| Total Plots | 7 |
| Total Points | 483 |
Latest Friends
Tino's Information
Ranking Status: Movie Star
Name: Tony Pritchard
Gender: Male
Current Area: Fayetteville, OH
Home Town: Cincinnati, OH
Education: Fayetteville-Perry High School Graduated 2006 Art Institute of Ohio-Cincinnati Graduate Video Production 2010
Employer: Showcase Cinemas
Position: Usher/Projectionist - clean, talk movies, and work in the projection booth
About Me: I'm a 20 year old student at the Art Institute of Ohio-Cincinnati. I am in the Video Production program, and plan to go on to film school after graduating in two years. I am a super movie geek, constantly learning new things about films and film-making.
Interests: Film and film critiquing, movie trivia, music, partying, writing, reading, video games, and just hanging.
Movie Profile
Film I Love: Pulp Fiction
Film I Hate: Pulse
Guilty Pleasure: Austin Powers series, Con Air, Say it Isn't So
Favorite Genre: Crime
Least Favorite Genre: Anime
Favorite Actors: Samuel L. Jackson, Toshiro Mifune, Robert De Niro, Uma Thurman
Least Favorite Actors: Dennis Quaid, Jimmy Fallon, Drew Barrymore, Jon Heder
Favorite Director: Quentin Tarantino
Least Favorite Director: BRETT RATNER/ Uwe Boll
Movie Quotes: "Call it,...... Friendo...." - Anton Chigurh

"I do not want to be a product of my environment, I want my environment to be a product of me" - Frank Costello

"Allow myself to introduce myself" - Austin Powers
Latest Movie Review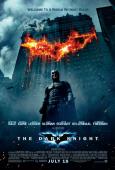 The Dark Knight
One of the best films of the DECADE!

The Dark Knight is one of the most hyped and anticipated films of all time. and it actually lives up to the mountains of hype. Christain Bale stars as the title character, and does a terrific job. Caine, Freeman, and Oldman all return to their original roles from 'Begins', and Katie Holmes is rightfully swapped for Maggie Gyllenhal. The two newcomers, Heath Ledger and and Aaron Eckhart star as The Joker and Harvey "Two-face" Dent, respectively. The film begins immediately showing how insane the joker truly is. That is a good portion of the movie, displaying the incredible craziness of the character. The Joker is one of the most memorable villains in all of film history. Yes, it is that good. He is terrifying. He is disgustingly …
Recent Comments