FilmCrave Points
| Activity | Points |
| --- | --- |
| Total Ratings | 71 |
| Total Reviews | 10 |
| Total Lists | 4 |
| Total Plots | 0 |
| Total Points | 122 |
Latest Friends
Adam Love's Information
Ranking Status: Director
Name: Adam Love
Gender: Male
Current Area: Kansas City, MO
Home Town: Kearney, MO
Education: B.S. Computer Science from Northwest Missouri State University
Employer: MMG Worldwide
Position: Web Developer
Movie Profile
Film I Love: Gladiator
Film I Hate: Mighty Ducks 3, From Justin to Kelly, Lucky You
Guilty Pleasure: Knight's Tale
Favorite Actors: Morgan Freeman, Angelina Jolie, Tim Robbins, Russell Crowe
Least Favorite Actors: Your Mom, Your Sister
Movie Quotes: "Hey, sewer rat may taste like pumpkin pie, but I'd never know 'cause I wouldn't eat the filthy motherfucker. Pigs sleep and root in shit. That's a filthy animal. I ain't eat nothin' that ain't got enough sense enough to disregard its own feces."

Peter Gibbons: "What would you do if you had a million dollars?" Lawrence: "I'll tell you what I'd do, man: two chicks at the same time, man."

Dimpus Burger Guy: "Want me to dimpa-size your meal for 25 cents?" Farva: "Want me to punch-a-size your face, for free?"
Latest Movie Review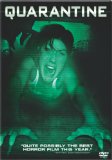 Quarantine
Quarantine your money. This movie is diseased.

This movie just plain wasn't good. I found it more entertaining counting the number of people who checked what time it was through the first half of the movie. Note to the web adminitrators of filmcrave.com: You've filed this movie under the wrong genre, please file under "Horrible, Coma Inducing"... They are probably very close alphabetically so I can understand the mistake. The shaky "reality" filming style Qauarantine tried to tackle is something I consider just as gutsy as filming in black and white nowadays. The director (John Dowdle) shows us just how easy it is to fail. The plot is never fully explained... if anything it's made more confusing. There was barely any character development. I wasn't even convinced that the …
Recent Comments