FilmCrave Points
| Activity | Points |
| --- | --- |
| Total Ratings | 52 |
| Total Reviews | 49 |
| Total Lists | 5 |
| Total Plots | 1 |
| Total Points | 259 |
Latest Friends
SarahG0327's Information
Ranking Status: Movie Star
Name: Sarah Griggs
Gender: Female
Current Area: Kansas City, MO
Home Town: Kearney, MO
Education: William Jewell School of Nursing, class of 2010
Employer: Aetna
Position: Pharmacy Tech II
About Me: I a nursing student at William Jewell. I love watching movies over and over again... The good ones never get old. I love anything cheesy and romantic (it must be the girl in me), but I can't take anything that is too over the top or fake- and that goes for movies and real life. Most of all I love being with the people I love, one hunk in particular, and having fun.
Interests: I absolutely love live theater... I'm a budding Royals fan and can get completely lost in the right music. I also love anything that has to do with the health field.
Movie Profile
Film I Love: Too many to pick... Drop Dead Gorgeous is up there.
Film I Hate: Lucky You.. I'd rather stab my eye out with a dull knive then see it again!
Guilty Pleasure: Anything cheesy and girly...
Favorite Genre: Horror
Least Favorite Genre: Anime
Favorite Actors: Will Ferrell, Samuel L. Jackson, Julie Roberts, Brittany Snow
Least Favorite Actors: Hugh Laurie, Drew Barrymore (face it, she's horrible), Mandy More (same as above)
Movie Quotes: "I'm all jacked up on mountain dew!"

"Your mom goes to college."

"You're not santa... you smell like beef and cheese!"
Latest Movie Review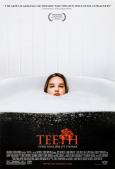 Teeth
It's True....!!!

There's so much to be said about this movie, but words can't do it justice. It's a movie you should definitely check out. It will make you laugh, cringe, laugh, cry and laugh some more. In fact, this film can be easily translated into an overwhelmingly successful cautionary tale for sex education.
Recent Comments