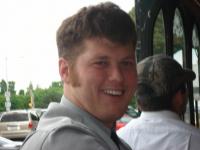 FilmCrave Points
| Activity | Points |
| --- | --- |
| Total Ratings | 1,010 |
| Total Reviews | 455 |
| Total Lists | 83 |
| Total Plots | 48 |
| Total Points | 3,336 |
Latest Friends
Gabe's Information
Ranking Status: Producer
Name: Gabe Kramer
Gender: Male
Current Area: Wahoo, NE
Home Town: Wahoo, NE
Education: Broadcasting major with a minor in Film Studies and Concentrations in History and English. Masters in Information and Library Science.
Employer: Nebraska Library Commission
Position: Book Circulation/Studio Support
Interests: Sports, music, movies
Movie Profile
Film I Love: Pulp Fiction (1994)
Film I Hate: Match Point
Guilty Pleasure: Animated films, especcially, but not limited to Disney
Favorite Genre: Crime
Least Favorite Genre: Family
Favorite Actors: Tom Cruise, Humphrey Bogart, Jimmy Stewart, Al Pacino
Least Favorite Actors: Katharine Hepburn
Favorite Director: Quentin Tarantino
Least Favorite Director: Michael Bay
Movie Quotes: I am a golden god! -Russell Hammond (Almost Famous)

Does anybody got a dime? Somebody's gotta go back for a shit load of dimes. Taggert in Blazing Saddles

Larry: Excuse me, but what the hell's going on out here? Crash Davis: Well, Nuke's scared because his eyelids are jammed and his old man's here. We need a live... is it a live rooster? [Jose nods] Crash Davis: . We need a live rooster to take the cu
Latest Movie Review

Singles
I really wanted to like this film. But, having been too young to "come of age" in the early 90s and too old to appreciate it now, this movie was just not for me.Bridget Fonda's character is annoying and I just could not relate to the characters in this film. However, the soundtrack is killer.
Highest Grossing Movies of All-Time (Adjusted)
Recent Comments