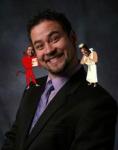 FilmCrave Points
| Activity | Points |
| --- | --- |
| Total Ratings | 35 |
| Total Reviews | 0 |
| Total Lists | 3 |
| Total Plots | 0 |
| Total Points | 65 |
Latest Friends
Hutson's Information
Ranking Status: TV Extra
Name: Josh Hutson
Gender: Male
Current Area: Dallas, TX
Home Town: Wahoo, NE
Education: BS in Interactive Digital Media at Northwest Missouri State University
Employer: NCompass Media
Position: Production Manager - We produce DVD yearbooks for schools nationwide.
About Me: I work from home so I usually throw in a movie while I'm working. I love going to the movies, even if this involves me doing a solo viewing.
Movie Profile
Film I Love: The Emperor's New Groove
Guilty Pleasure: Starship Troopers
Favorite Genre: Comedy
Least Favorite Genre: Anime
Favorite Actors: Johnny Depp, Matthew McConaughey, Rachel McAdams, Shannyn Sossamon
Least Favorite Actors: Paul Walker, Steven Seagal, Drew Barrymore
Movie Quotes: "It would be a lot cooler if you did."
Recent Comments