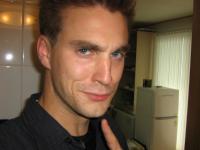 FilmCrave Points
| Activity | Points |
| --- | --- |
| Total Ratings | 984 |
| Total Reviews | 81 |
| Total Lists | 21 |
| Total Plots | 32 |
| Total Points | 1,481 |
Latest Friends
Topher's Information
Ranking Status: Producer
Name: Christopher Hemann
Gender: Male
Current Area: Daejeon, Korea
Home Town: Ossipee, NH
Education: BA: University of New Hampshire, English/Classics ----- MA: UChicago, Humanities
Employer: A University in Daejeon, SO KO
Position: English Teacher - I teach college students to say "Cameron Diaz is yummy"
About Me: I like reviews that see movies from a new angle -- that "re-view" it. Films with bad politics deserve bad ratings. Entertainment is the frontline of mind control.
Interests: Zombies, Apocalypse, Zombie-Apocalypse
Movie Profile
Film I Love: Project X -- a bunch of monkeys fly bombers for the army!
Film I Hate: The (Non)-Happening
Guilty Pleasure: Whimpering, self-indulgent Gen X films about how cool it is not to be cool
Favorite Genre: Horror
Least Favorite Genre: Sport
Favorite Actors: Depp, Eastwood, Helena Bonham-Carter, Maggie Gyllenhaal
Least Favorite Actors: Damm, Wesley, Rock, Mitt Romney
Favorite Director: Ed Wood
Least Favorite Director: Ed Wood
Movie Quotes: "TV told us we should shoot them in the head." "TV says a lot of things" -- (Dawn of the Dead, remake)

"Let's get down to brass tacks here . . . how much do you want for the ape?" -- Fear and Loathing

"You despise me, don't you, Rick?" "If I gave you any thought, I probably would" --Casablanca
Latest Movie Review
Altered States
Not a Good Trip

A cool premise -- unleashing the potential, and the horrors, of the human mind through prolonged sensory depravation -- gets a bit hooky toward the end. Bizarre late 70's drug special effects can also make it difficult to watch. But an interesting look into post-hippy culture.
Recent Comments