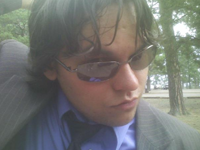 FilmCrave Points
| Activity | Points |
| --- | --- |
| Total Ratings | 590 |
| Total Reviews | 587 |
| Total Lists | 31 |
| Total Plots | 40 |
| Total Points | 2,803 |
Latest Friends
PsychoKing1227's Information
Ranking Status: Producer
Name: Alex Brown
Gender: Male
Current Area: Show Low, AZ
Home Town: Show Low, AZ
Education: I'm attending college now. Almost have my Degree!!!
About Me: I'm a film and theater and literature enthusiast who loves long walks through the city and the sound and smell of a good summer rain. But I'm as stubborn as a mule and love to discuss all manner of art with anyone willing to offer valid opionins.
Interests: I'm a theater freak. What more can I say?
Movie Profile
Film I Love: Slumdog Millionaire
Film I Hate: Grease
Guilty Pleasure: Clueless
Favorite Genre: Thriller
Least Favorite Genre: Anime
Favorite Actors: Johnny Depp, Nicole Kidman, Hugh Laurie, Phillip Seymour Hoffman
Least Favorite Actors: Kevin Costner, Val Kilmer, Julia Roberts, Kristen Stewart
Favorite Director: Paul Thomas Anderson
Least Favorite Director: Uwe Boll
Movie Quotes: "The greatest thing you'll ever learn is just to love and be loved in return." -Moulin Rouge

"This is Heaven, Dave." -Happy Feet
Latest Movie Review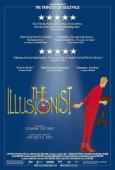 Illusionist, The ( illusionniste, L' )
Red Shoes and Bunny-Rabbits

A beautifully-drawn and marvelously-under-stated work of art, "L'illusionniste" is a stirring tapestry of the era of entertainment told from a magician who is attempting with all his might to prove to himself that magic still exists. A young girl who follows him from a stage show changes his life forever when he understands that magic exists in children and grows old and decays with adulthood. A moving and lovely piece, this film is one that will live through the ages.
Recent Comments