FilmCrave Points
| Activity | Points |
| --- | --- |
| Total Ratings | 1,058 |
| Total Reviews | 8 |
| Total Lists | 70 |
| Total Plots | 0 |
| Total Points | 1,741 |
Latest Friends
Court J.'s Information
Ranking Status: Producer
Name: Court Jensen
Gender: Male
Home Town: st. blow aka st. joseph, MO
Education: H.S.
Employer: Apple Market
Position: I clean yucky things!
About Me: I love movies! Watching them and making them. I also love music! I love all things 80's good and bad! I'm young & single and i loves to mingle!! I am a huge transformers geek and proud of it!!
Interests: I love watching movies good and bad. It does not get better than going out with my awesome friends and acting like a ldiot. I love love love Asian women. I dream of taking a trip to Tokyo and never leaving. For about 14 years i have been making my own series of underground mixtape shows for friends or whomever will listen.
Movie Profile
Film I Love: X-Men 2
Film I Hate: Anything Tyler Perry touches!!
Guilty Pleasure: 10 Things I Hate About You
Favorite Genre: Comedy
Least Favorite Genre: Western
Favorite Actors: Joe Gordon- Levitt, Emile Hirsch, Zooey D., Robert Downey Jr.
Least Favorite Actors: Everyone, From The Cast of, High School, Musical
Favorite Director: John Hughes/Peter Jackson
Least Favorite Director: Uwe Boll
Movie Quotes: Totes Magotes!!-I Love You, Man Fogell... shut the fuck up. And take off that vest. You look like Aladdin. -Superbad
Latest Movie Review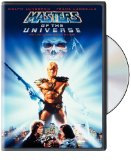 Masters of the Universe
Where the heck is Mechaneck?

Masters of the Universe for the most part still holds up as a pretty good fantasy/adventure flick. The cast was pretty solid. Dolph Lundgren was a perfect fit for Eternia's greatest warrior, He-Man. He was joined by MOTU staples Man-At-Arms & Teela. A bumbling dwarf by the name of Gwildor was created for this film. He was a pretty good replacement for Orco. A very cute post "dancing in the dark" Courteney Cox also stars. On the bad side you have an awesome performance by Frank Langella (Frost/Nixon) as Skeletor. He was joined by a great looking Evil-Lyn & Beastman. There were three kick-ass new villians. Saurod, Blade and Karg showed up to add a bit more danger for our heroes. Also there was a plot point about a thing called the Cosmic …
Most Anticipated Movies of 2010
Recent Comments