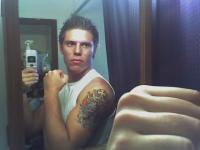 FilmCrave Points
| Activity | Points |
| --- | --- |
| Total Ratings | 1,609 |
| Total Reviews | 0 |
| Total Lists | 39 |
| Total Plots | 0 |
| Total Points | 1,979 |
Latest Friends
Slice Of Evan's Information
Ranking Status: Producer
Name: Evan Martin
Gender: Male
Current Area: Grand Junction, CO
Home Town: CO
Employer: It's more of a freelance thing...
Position: Imminent Doom Evasion, Strategy and Tactics Expert
About Me: Well I'm a vibrant healthy young 26 year old male.... who loves to lock himself inside and watch movies all day... tragic.
Interests: Writing, guitar, friends, camping, basketball, sports, family, football, dancing, kings cup, cooking, traveling, gaming, fishing, 4wheeling, concerts, music... LOVE music, conspiracy theories, running, black and white photos, jeans... .....that stuff's all good until I get to my dvd shelf and... AHHHH!!! Light strikes and the angels sing, as my fingers glide across the spines of movie cases, my mind jumps around with a euphoric sense of childlike bewilderment and glee... eeh hem, or, uh... something of that nature.
Movie Profile
Film I Love: Seriously, pick one?... How about a hundred...
Film I Hate: Horrible comic adaptations
Guilty Pleasure: Really Grade B grindhouse movies... I can be a glutton for punishment.
Favorite Genre: Action
Least Favorite Genre: Musical
Favorite Actors: Kurt Russell, Christian Bale, Gary Oldman, Brad Pitt
Least Favorite Actors: Tom Cruise, Julia Roberts, Sean Penn, Kevin Costner
Favorite Director: D.Fincher, C.Nolan, D.Boyle, QT, T&R.Scott.
Least Favorite Director: Bret Retner