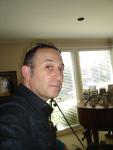 FilmCrave Points
| Activity | Points |
| --- | --- |
| Total Ratings | 440 |
| Total Reviews | 22 |
| Total Lists | 3 |
| Total Plots | 0 |
| Total Points | 526 |
Latest Friends
Virtuakd's Information
Ranking Status: Director
Name: Kevin Davis
Gender: Male
Current Area: Hollywood, CA
Home Town: London, England
About Me: I have two great kids. Have been working in the entertainment industry for over 15 years. Love being in Hollywood.
Interests: Movies. Kids. NBA Basketball. English Premiereship Football (aka soccer)
Movie Profile
Film I Love: Close Encounters
Film I Hate: No such thing... just love movies
Guilty Pleasure: Anything, and I mean anything on my HDTV
Favorite Genre: Adventure
Least Favorite Genre: Musical
Favorite Actors: George Clooney, Elisabeth Shue, Tom Hanks, Leonardo DiCapprio
Least Favorite Actors: Jim Carrey, Lindsey Lohan, Steven Seagal
Favorite Director: Terry Gilliam
Least Favorite Director: Roland Emerich
Movie Quotes: "Wolf-nipple chips! Get them while they're hot... they're lovely." - Life of Brian

"I don't advise a haircut, man. All hairdressers are in the employment of the government. Hairs are your aerials. They pick up signals from the cosmos, and transmit them directly into the brain. This is the reason bald-headed men are uptight." - Withnail

"Get your stinkin paws off me, you damned dirty ape." - Planet of the Apes
Latest Movie Review
Alien 3
Alien was scary. Aliens was visionary.... I wish they would have stopped there.
Great British Films I Grew Up With
Recent Comments