FilmCrave Points
| Activity | Points |
| --- | --- |
| Total Ratings | 424 |
| Total Reviews | 50 |
| Total Lists | 12 |
| Total Plots | 0 |
| Total Points | 644 |
Latest Friends
Porkchop Express's Information
Ranking Status: Director
Name: Kipp Feldt
Gender: Male
Current Area: Olathe, KS
Home Town: The Dirty South, TN
Education: NWMSU (B.S. Wildlife Conservation and Ecology - Biology Minor) Creighton Tech (some 6 month programming degree)
Employer: Tekniq Data Corp.
Position: programmer/super hero - I'm sure you can figure it out...
About Me: If I had to pick my super power, it would be the ability to puke at any given time and projectile puking! You might not think it's too special, but boy does it come in handy every once in a while!
Interests: Movies, beer, food, and sports (oink oink my good man)!
Movie Profile
Film I Love: The Goonies
Film I Hate: Tin Cup
Guilty Pleasure: Legally Blonde
Favorite Genre: Horror
Least Favorite Genre: Romance
Favorite Actors: Bruce Campbell, Morgan Freeman, Clint Eastwood, Johnny Depp
Least Favorite Actors: Diane Keaton, Tom Arnold, Robin Williams, Sandra Bullock
Favorite Director: Sam Raimi
Least Favorite Director: John Landis (after 1995)
Movie Quotes: It's better to burn out than fade away! -Highlander-

Jack not name, Jack job! - the muppet movie-

All I need are some tasty waves, a cool buzz, and I'm fine. -Fast Times at Ridgemont High-
Latest Movie Review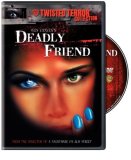 Deadly Friend
Classic Wes Craven!

This is a classic and obviously a must watch. If you are in the mood for a great Wes Craven film them you have to see this one. It was on HBO when I was a kid and I watched it over and over again. I believe this horror film has been overlooked and/or forgotten. If you get a chance, watch it!
Recent Comments