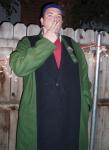 FilmCrave Points
| Activity | Points |
| --- | --- |
| Total Ratings | 1,163 |
| Total Reviews | 16 |
| Total Lists | 5 |
| Total Plots | 1 |
| Total Points | 1,280 |
Latest Friends
Alex
Movie God
brendoman's Information
Ranking Status: Producer
Name: Brendan Creecy
Gender: Male
Current Area: Yucaipa, CA
Home Town: San Diego, CA
Education: Bachelor's Degree in Youth Ministry that I don't use, currently taking classes in computer programming and web development.
Employer: Yamaha
Position: Data Consultant - Nothing exciting
About Me: Just a guy, a geek, a dreamer. A lover of many things, hater of few.
Interests: movies, books, music, running my website, writing, comedy, and other geeky stuff.
Movie Profile
Film I Love: Angus
Film I Hate: Any Disney Direct-to-Video Sequel
Guilty Pleasure: The Cutting Edge
Favorite Genre: Comedy
Least Favorite Genre: Sport
Favorite Actors: John Cusack, Gary Oldman, Laura Linney, Jake Gyllenhaal
Least Favorite Actors: Richard Gere, Colin Ferrell, Josh Hartnett, Julia Roberts
Favorite Director: Kevin Smith
Least Favorite Director: McG
Movie Quotes: "What is your religion?" "I believe in the inspiration of the human conscience." - Remy, Alphaville

"Back off man, I'm a scientist!" - Venkman, Ghostbusters

"Remember these words, Angus, and always live by them: screw 'em! Who cares what other people think?" - Grandpa, Angus
Latest Movie Review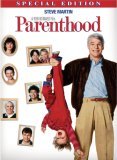 Parenthood
Highly Underrated, one of Howard's best

This is actually my favorite Ron Howard movie. i think a lot of people either missed this one or overlooked it thinking it was a family comedy. It totally isn't. It's a comedy/drama about a family but when I saw this when I was younger I think I missed a lot of the humor. I fell in love with it when I watched it when I was older. There are so many great performances here, from Steve Martin, Tom Hulce, Jason Robards, Mary Steenburgen, and young and perfectly cast Keanu Reeves, to name a few. Martin puts in a really great and heartwarming performance. Check this one out if you missed it.
Recent Comments