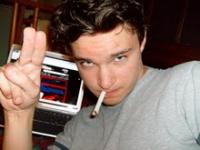 FilmCrave Points
| Activity | Points |
| --- | --- |
| Total Ratings | 5,182 |
| Total Reviews | 49 |
| Total Lists | 40 |
| Total Plots | 4 |
| Total Points | 5,815 |
Latest Friends
The SHC's Information
Ranking Status: Movie God
Name: Stoned Horror Critic
Gender: Male
Current Area: Manhatten, NY
Home Town: Sydney
Education: High School
Employer: I'm right behind you.
Position: Seriousely - RUN FOR YOUR LIFE!
About Me: I love horror movies, especially slashers from the 70s and 80s. My favourite horror movie is John Carpenter's classic HALLOWEEN. I'm really pissed about modern mainsteam horror, especially the crappy remakes that douche bag Micheal Bay pulls out of his ass. Still, we've been having some good ones recently, namely THE STRANGERS, MIDNIGHT MEAT TRAIN, and of course Sam Raimi's epic return to horror: DRAG ME TO HELL. I also love a good action flick, especially ASSAULT ON PRECINCT 13 (1976) and THE MATRIX.
Interests: Watching movies, eating, and killin' Nazis...
Movie Profile
Film I Love: Halloween (1978); Highlander (1986); The Thing (1982); Se7en (1995)
Film I Hate: Birth of a Nation, Friday the 13th (2009), Preciouse, Transformers 2: Revenge of the Shit
Guilty Pleasure: MASTURBATING!!!....what?
Favorite Genre: Horror
Least Favorite Genre: Romance
Favorite Actors: Christopher Lambert, Mark Hamill, Reb Brown, Jackie Earle Hayley
Least Favorite Actors: Chris Klein, Eva Mendes, Channing Tatum, Tyra Banks
Favorite Director: John Carpenter (FTW)
Least Favorite Director: Micheal Bay
Movie Quotes: "I met him 15 years ago, and was told there was nothing left. No concience, no reason, not even the most rudimentary sense of good or evil, right or wrong. I met this boy with these pale, emotionless eyes. The Devil's eyes." -Donald Pleasence (Halloween)

"I've come to kick ass and chew bubblegum. And I'm all out of bubblegum." -Roddy Piper (They Live)

"Cheating Bitch." -Kurt Russell (The Thing)
Latest Movie Review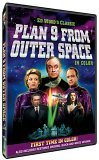 Plan 9 from Outer Space
This Isn't a Movie...It's an ORGASM! :)

OK, I'm just gonna say it right now: I think Ed Wood is one of the greatest filmakers who ever lived. Hell, he's my fifth favourite filmaker (behind John Carpenter, Stanley Kubrick, Steven Spielberg, and Quentin Tarantino). Seriousely, I love the man's work! Hell, he's one of the reasons why I love Uwe Boll: because Uwe Boll reminds me so much of Ed Wood. I'm NOT joking. Ed Wood has to be one of the happiest and most enthusiastic filmakers of all time, and Plan 9 From Outer Space is the greatest testament to his awesomeness. I mean seriousely, the fact that he used gasoline-soaked paper plates as flying saucers, and made his actors deliver awesomely awkward dialogue in really fucking weird ways, and the fact that he casted his wife's …
Recent Comments