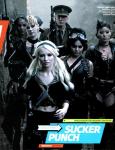 FilmCrave Points
| Activity | Points |
| --- | --- |
| Total Ratings | 77 |
| Total Reviews | 0 |
| Total Lists | 3 |
| Total Plots | 0 |
| Total Points | 87 |
Latest Friends
film-fanatic's Information
Ranking Status: TV Extra
Gender: Female
Education: I am currently a college student studying to be a cardiovascular sonographer.
About Me: As a 19 year old college student, I find myself pressed for time to do anything. But I do make time to watch films and study about them. It has really became a passion that has grown to be my favorite hobby.
Interests: I am definetly interested in film and film-making. The art of designing a film is intriguing and an art form. Hopefully, I can someday have a hand in the producion of films.
Movie Profile
Film I Love: Alfred Hitchcock's Rear Window (1954)
Film I Hate: Twilight
Guilty Pleasure: Red Dawn (1984)
Favorite Genre: Horror
Least Favorite Genre: Anime
Favorite Actors: James Stewart, Sean Penn, Leonardo DiCaprio, Brad Pitt
Least Favorite Actors: Robert Pattinson, Channing Tatum, Hayden Christensen, Ashton Kutcher
Favorite Director: Christopher Nolan
Least Favorite Director: Michael Bay
Movie Quotes: "Carpe diem. Seize the day, boys. Make your lives extraordinary."- Dead Poets Society : Robin Williams

"We all go a little mad sometimes."- Psycho : Anthony Perkins

"The greatest trick the devil ever pulled was convincing the world he didn't exist." - The Usual Suspects : Kevin Spacey
Recent Comments