FilmCrave Points
| Activity | Points |
| --- | --- |
| Total Ratings | 5,618 |
| Total Reviews | 34 |
| Total Lists | 27 |
| Total Plots | 182 |
| Total Points | 6,095 |
Latest Friends
Filmhog's Information
Ranking Status: Movie God
Name: Film Hog
Gender: Female
Current Area: same, alas
Home Town: Baltimore, MD
Education: B.A. in American Studies.
Position: I work full-time at a legal staffing company, and I do some book reviewing on the side. I'm also working on the zillionth draft of my second novel. (I abandoned my first after three failed drafts.)
About Me: Woo hoo -- I'm a Movie God!!!
Interests: What've you got?
Movie Profile
Film I Love: The Rapture, Clear and Present Danger, La Dolce Vita, Auntie Mame
Film I Hate: American Pie and its ilk
Guilty Pleasure: Awful horror movies starring Lance Henriksen
Favorite Actors: Peter Sarsgaard, Burt Lancaster, Isabelle Huppert, Barbara Stanwyck
Favorite Director: Paul Schrader
Movie Quotes: It is good I call you dumbhead. -House of Strangers

"Kiss my ass." "I don't have time." -Posse (1975)

Some of us are privileged enough to vent to you in the boys' room stall, and the rest of us just have to settle for less conventional methods like -- I don't know -- a bottle of booze and a handgun. -Charlie Bartlett
Latest Movie Review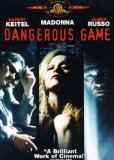 Dangerous Game (1993)
I added an extra half star for a few unintentionally hilarious scenes (in the best of which Harvey Keitel's character drunkenly sings Harry Chapin's "Taxi"!).
Recent Comments