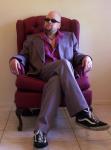 FilmCrave Points
| Activity | Points |
| --- | --- |
| Total Ratings | 593 |
| Total Reviews | 13 |
| Total Lists | 2 |
| Total Plots | 0 |
| Total Points | 654 |
Latest Friends
ScottyWasANitemare's Information
Ranking Status: Director
Name: Willie Wayback
Gender: Male
Current Area: Somewhere
Home Town: Planet Earth
Education: BA in Mass Communication - Journalism
Employer: God
Position: Shepherd
About Me: I play music and write. I once broke a bone, jumped out of a perfectly good airplane, hurt another person, was hurt by another person, went to Costa Rica, put my foot in my mouth, lost my best friend to cancer, spilled red wine on the carpet, had a coupla cats, ate a taco, experimented with drugs, wrote someone off, stopped and smelled the sewage, floated down a crystal clear river listening to nothing but my breathing, crashed a car, moved in the Texas summer heat, cooked a delightful meal, changed my brand on a whim, drank a cup of coffee, leered at a beautiful woman, and won some money. Things are okay. I like stuff and things.
Interests: I like cheese, sensor tags, the word "pneumatic", very small versions of large animals, clean fingernails, hot soups.
Movie Profile
Film I Love: The Whoopee Boys
Film I Hate: Vanilla Sky
Guilty Pleasure: really, really bad movies
Favorite Genre: Comedy
Least Favorite Genre: Horror
Favorite Actors: Johnny Depp, Jack Nicholson
Favorite Director: The Coen Brothers
Least Favorite Director: Michael Bay
Latest Movie Review
Jacob's Ladder (1990)
Something's going on...

When I was watching The Jacket with my girlfriend, I kept telling her that it was Jacob's Ladder. She had never seen this, so we rented it and I got to watch it again for the first time in a long time. Tim Robbins and Elizabeth Pena are good in their roles, and it was one of the first "mind-#%!" movies I remember seeing. Give this film a chance, especially if you like those "didn't-see-that-one-coming" type movies.
Recent Comments