FilmCrave Points
| Activity | Points |
| --- | --- |
| Total Ratings | 4 |
| Total Reviews | 4 |
| Total Lists | 3 |
| Total Plots | 0 |
| Total Points | 26 |
salivafan's Information
Ranking Status: Aspiring Actress
Name: heather ford
Gender: Female
Current Area: buckethead land , NM
Home Town: buckethead land, NM
About Me: I love playing the electric guitar and the keyboard as well. I have an annoying little 12 yr old bro. I am 15 and a half going on 16 in feb 12th. I also like to talk bout movies with some of my firendz as well. Oh yea... I forgot to mention that i love hanging out with my friendz as well.
Interests: playing guitar,bothering my bro,playing guitar, eating, playing guitar, and watching movies that i would actually like to see 4 myself... by the way did i mention that i play guitar?
Movie Profile
Film I Love: The Shining, One Flew over the Cuckoos nest and nightmare on elm street.
Film I Hate: High School Musical, and the some the crappy disney channel movies in disney channel
Guilty Pleasure: anime movies.... they always get to me.
Favorite Genre: Horror
Least Favorite Genre: Documentary
Favorite Actors: Jim Carry, Adam Sandler, Jack Nicholson, Christopher Walkins
Least Favorite Actors: Bradd Pitt, Anne Hathaway, miley cyrus
Favorite Director: stanley krubrick
Least Favorite Director: michael bay films
Movie Quotes: "I don't see the point in living if i'm not beautiful". This is from the movie Howls Moving Castle.
Latest Movie Review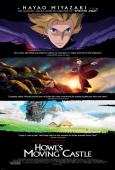 Howl's Moving Castle ( Hauru no ugoku shiro )
Howls Moving Castle

Howls moving castle is one of my all time favorites. It is about a young teenage girl who seeks for help by a magical wizard named Howl. Apparently the young teenage girl has been cursed by the witch of the waste. She has been turned into an old lady and can only undo the curse by her one true love. I would recommend this to alot of anime fans like me. Especially people who love adventure and romance.
Recent Comments