 FilmCrave Points
| Activity | Points |
| --- | --- |
| Total Ratings | 4,011 |
| Total Reviews | 1,867 |
| Total Lists | 103 |
| Total Plots | 12 |
| Total Points | 11,648 |
Latest Friends
Nick
Producer
Indyfreak's Information
Ranking Status: Movie God
Gender: Male
Movie Profile
Film I Love: Raiders of the Lost Ark.
Film I Hate: Anything that annoys me.
Guilty Pleasure: stuff with explosions
Favorite Genre: Adventure
Least Favorite Genre: Sport
Favorite Actors: Harrison Ford, Morgan Freeman, Helen Mirren, Cate Blanchett
Least Favorite Actors: Adam Sandler, Kristen Stewart, Rob Schneider
Favorite Director: Steven Spielberg
Least Favorite Director: I gotta remember?
Movie Quotes: "It's not the years, it's the mileage."

"That don't make no sense."

"Keep your friends close and keep your enemies closer."
Latest Movie Review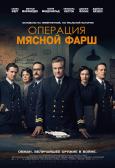 Operation Mincemeat
Handsomely staged espionage thriller inspired by a true life operation by British intelligence officers to fool the Nazis during World War 2. Good performances by the cast and the direction by John Madden (Shakespeare in Love) makes it quite entertaining. Some of the subplots do lean on romantic entanglements which bog the movie down.
Recent Comments