 FilmCrave Points
| Activity | Points |
| --- | --- |
| Total Ratings | 3,082 |
| Total Reviews | 1,105 |
| Total Lists | 97 |
| Total Plots | 12 |
| Total Points | 8,139 |
Latest Friends
Nick
Producer
Indyfreak's Information
Ranking Status: Movie God
Gender: Male
Movie Profile
Film I Love: Raiders of the Lost Ark.
Film I Hate: Anything that annoys me.
Guilty Pleasure: stuff with explosions
Favorite Genre: Adventure
Least Favorite Genre: Sport
Favorite Actors: Harrison Ford, Morgan Freeman, Helen Mirren, Cate Blanchett
Least Favorite Actors: Adam Sandler, Kristen Stewart, Rob Schneider
Favorite Director: Steven Spielberg
Least Favorite Director: I gotta remember?
Movie Quotes: "It's not the years, it's the mileage."

"That don't make no sense."

"Keep your friends close and keep your enemies closer."
Latest Movie Review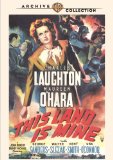 This Land is Mine
A splendidly acted indictment against treachery and enemy collaboration at the height of World War 2. Charles Laughton shines as the milquetoast teacher swept up in Vichy intrigue and resistance due to his love for a fellow teacher (O'Hara). Walter Slezak is good as the lead Nazi and George Sanders has a rare nuanced role as the conflicted collaborator. The script has some standout acting moments showing that courage and bravery are more born of circumstance that reveals one's true character.
Recent Comments