FilmCrave Points
| Activity | Points |
| --- | --- |
| Total Ratings | 2,990 |
| Total Reviews | 5 |
| Total Lists | 10 |
| Total Plots | 10 |
| Total Points | 3,101 |
Latest Friends
Mr.Cinema's Information
Ranking Status: Producer
Name: Mr Cinema
Gender: Male
Current Area: NY
About Me: I am an avid movie lover and I love to watch shlock and B-movies. I am an up an coming Comedian.
Interests: Movies, reading, computers, fixing and taking apart electronics.
Movie Profile
Film I Love: Predator, Weird Science, Smokey and the Bandit, Gremlins, Idle Hands, Men In Black
Guilty Pleasure: Wild Wild West, Dreamcatcher
Favorite Genre: Horror
Least Favorite Genre: Romance
Favorite Actors: Jim Carrey, Ken Foree, R. Lee Ermey, Bruce Campbell
Least Favorite Actors: Matthew Lilard, Pauly Shore
Favorite Director: George A. Romero
Movie Quotes: There's no way, *no* way that you came from *my* loins. Soon as I get home, first thing I'm gonna do is punch yo mamma in da mouth! -Sheriff Bufford T. Justice "Smokey and the Bandit"

I have come here to chew bubblegum and kick ass... and I'm all out of bubblegum. -Roddy Pipper as Nada "They Live"

This is my rifle. [grabbing his crotch] This is my gun. This is for fighting. [grabbing his crotch] This is for fun. -R. Lee Ermey as Gunnery Sergeant Hartman "Full Metal Jacket"
Latest Movie Review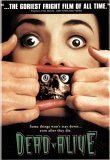 Dead Alive ( Braindead )
The Cinema Slaughterhouse - Braindead

Braindead or DeadAlive is said to be one of the goriest movies of all time.... And it kind of is. Its a movies all about zombies and it kick ASS! How can you go wrong with a movie that has a preist roundhouse kicking a zombies head off and follows up with the line: "I kick ass for the lord!" and 'Sumarian Rat Monkey'! Its amazing how batshit insane this movies gets in an hour and a half. If you get the chance see this movie, but if your a serious gorehound, get the unrated version.
Recent Comments