FilmCrave Points
| Activity | Points |
| --- | --- |
| Total Ratings | 349 |
| Total Reviews | 152 |
| Total Lists | 4 |
| Total Plots | 57 |
| Total Points | 1,788 |
Latest Friends
JLFM's Information
Ranking Status: Producer
Gender: Male
Current Area: Corvallis, OR
Home Town: Corvallis, OR
About Me: I'm not a bird, but I may be an elephant. Also, please like and share this four second video! I'm trying to reach 1 billion views so I need all the help I can get! Thanks!---- http://www.youtube.com/watch?v=ScZEP0SUX_M
Interests: Writing, reading, critiquing, stop motion, films, composing music, acting, etc.
Movie Profile
Film I Love: Up. It's my all time favorite film, followed by Ratatouille, and then Inception.
Film I Hate: Fred: The Movie
Guilty Pleasure: Winnie the Pooh films, Star Wars prequels, Pirates of the Caribbean
Favorite Genre: Animation
Least Favorite Genre: Horror
Favorite Actors: John Ratzenberger, Billy Connolly, Meryl Streep, Emma Thompson
Least Favorite Actors: Dwayne 'The Rock' Johnson, Brendan Fraiser, Nicholas Cage
Favorite Director: Brad Bird
Movie Quotes: "And I said, 'If you talk to me like that again, we're through!'" "And then what happened?" "You know my mom; she sent me to my room!" -Monsters, Inc.
Latest Movie Review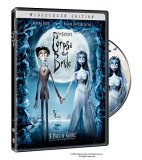 Corpse Bride
Tim Burton at this Tim Burton-est

Tim Burton's Corpse Bride is not unlike Tim Burton's other films. They're dark, a bit creepy, with predictably Burton-esque visuals, and are peppered with bits of macabre humor. It would not be outlandish to merely dismiss Corpse Bride as "just another Burton film." Alas, even though Burton's Gothic film-making formula hasn't changed much, one should not forget that Burton's signature style is one of the things that make his films so appealing. Corpse Bride is no exception. Set in the Victorian Era, Corpse Bride is about a young man named Victor that is forced by his parents to be wed to a young woman named Victoria, whom he has never even met. However, there's a change in plans when Victor gets into a bizarre mix-up, and …
Movies I've Seen in 2013 (in order of enjoyment)
Recent Comments