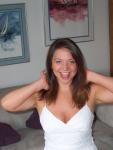 FilmCrave Points
| Activity | Points |
| --- | --- |
| Total Ratings | 0 |
| Total Reviews | 0 |
| Total Lists | 2 |
| Total Plots | 0 |
| Total Points | 10 |
Latest Friends
Kasiemk's Information
Ranking Status: Aspiring Actress
Name: Kasie K
Gender: Female
Current Area: Fort Collins, CO
Home Town: Boulder, CO
Education: I am a business student at Colorado State University. I will be graduating in May!!!!!!!!!!
About Me: I can't listen to Bon Jovi's Living on a Prayer without dancing my heart out and singing at the top of my lungs! P.S. I will add to my movie lists! I just haven't found time yet!!!
Interests: Movies, TV, music, trivia, hiking, jet-skiing. . .
Movie Profile
Film I Love: Office Space
Film I Hate: I am not much of a hater. . .
Guilty Pleasure: Any and all romantic comedies. The cheasier the better!
Favorite Genre: Comedy
Least Favorite Genre: Horror
Favorite Actors: Vince Vaughn, Will Farrell, Hugh Grant and Colin Firth, Christopher Walken
Favorite Director: Quentin Tarantino or Christopher Guest
Least Favorite Director: Michael Moore
Recent Comments