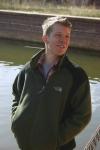 FilmCrave Points
| Activity | Points |
| --- | --- |
| Total Ratings | 23 |
| Total Reviews | 5 |
| Total Lists | 12 |
| Total Plots | 1 |
| Total Points | 92 |
Latest Friends
Alex
Movie God
jmccall's Information
Ranking Status: TV Extra
Name: John McCall
Gender: Male
Current Area: Colorado Springs, CO
Home Town: South Brunswick, NJ
Education: Colorado College '10
Interests: History and Philosophy
Movie Profile
Guilty Pleasure: Charlie's Angels
Favorite Genre: Sci-Fi
Least Favorite Genre: War
Favorite Actors: Brad Pitt, Natalie Portman, Jude Law, Robert Downey Jr.
Least Favorite Actors: Philip Seymour Hoffman, Tom Cruise
Movie Quotes: Alice: Oh, no, no. I was just wondering if you could help me find my way. Cheshire Cat: Well that depends on where you want to get to. Alice: Oh, it really doesn't matter, as long as... Cheshire Cat: Then it really doesn't matter which way you

Look what you did you little jerk! - Home Alone

Robin Hood: Blinkin, what are you doing? Blinkin: I'm guessing. I guess nobody's coming. - Robin Hood: Men in Tights
Latest Movie Review
Shakespeare in Love
This film may not have deserved to win an academy award, but it did so for a reason.The movie was powerful and the characters were so tangible. It made a Shakespeare story really relatable for a person living in the 21st century.Thumbs up!
Recent Comments