FilmCrave Points
| Activity | Points |
| --- | --- |
| Total Ratings | 811 |
| Total Reviews | 114 |
| Total Lists | 27 |
| Total Plots | 3 |
| Total Points | 1,536 |
Latest Friends
Jacob Zembower's Information
Ranking Status: Producer
Name: Jacob Zembower
Gender: Male
Current Area: Sacramento, CA
Home Town: Sacramento, CA
Education: Art Institute of California- Sacramento. Taking Digital Film Making and Video Production.
Employer: Unemployed
Position: Currently applying.
About Me: Just a tad addicted to film, and proud of it. It's been my escape from hard times since I can remember. I have quite an eclectic taste. Gay. Happy. A-Political, open-minded and I know what I believe in and stand for, I don't need to subscribe to any party. I've been through a lot, but I've finally reached the light. I'm easy-going, trustworthy, reliable, and some say I'm funny. Other' say I'm a faggot. But that rhymes with BIGGOT! Oh, wait, yeah I love movies...
Interests: Journalism, nature, art (all mediums) , acting, reading, writing, gardening, the universe, aliens, paranormal shite, psychology, criminology, dancing, camping, skinny dipping, loving, animals, Tom Hardy, transcendental meditation, protesting and activism.
Movie Profile
Film I Love: Just one? Mulholland Dr.
Film I Hate: Transformers: Revenge of the Fallen
Guilty Pleasure: I never feel guilty from pleasure.
Favorite Genre: Horror
Least Favorite Genre: Sport
Favorite Actors: Tom Hardy, Philip Seymour Hoffman, Isabelle Huppert, Tilda Swinton
Least Favorite Actors: Ryan Reynolds, Sylvester Stallone, Martin Lawrence, Tyler Perry
Favorite Director: David Lynch, Michael Haneke, Sofia Coppola
Least Favorite Director: Michael Bay
Movie Quotes: "Human drama is inevitable, suffering can not be diminished." "And the book says we may be through with the past, but the past aint through with us"

"Sensual, sexy, sex, sex." "Singer, dancer, homosexual.' "Do you know what she did? Your cunting daughter?"

"I'll have a butterscotch sundae I guess." "You get it! You hear that? SHE GETS IT! That's good, really!" "Camilla, the car is waiting, you coming?"
Latest Movie Review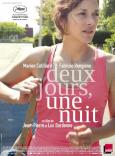 Two Days, One Night ( Deux jours, une nuit )
Another mini-near-masterpiece from the Dardenne brothers, featuring Marion Cotillard in one of her very best performances.
Recent Comments