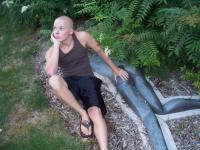 FilmCrave Points
| Activity | Points |
| --- | --- |
| Total Ratings | 980 |
| Total Reviews | 11 |
| Total Lists | 4 |
| Total Plots | 0 |
| Total Points | 1,039 |
Latest Friends
Nick
Producer
deaddan2000's Information
Ranking Status: Producer
Gender: Male
Current Area: Lincoln, NE
Education: In my final year at UNL in lincoln, nebraska.
Employer: YMCA
About Me: I love talking about movies with people. i'm not a film student or anything, it's just a fun past time. I'm a criminal justice major in my final year and hope to do gang work in Chicago.
Interests: video games, movies, good beer/good cigars, good books, good tv shows like The Wire, Deadwood, Carnivale and Dexter, hanging out with cool people, dogs, hardcore/experimental/folk/indie music, and the list goes on.
Movie Profile
Film I Love: Crazy Heart
Film I Hate: Bio-Dome
Guilty Pleasure: The Transporter series
Favorite Genre: Crime
Least Favorite Genre: Sport
Favorite Actors: Jeff Bridges, Mickey Rourke, Leonardo DiCaprio, Daniel Day-Lewis
Least Favorite Actors: Matthew McCounaghey, Dane Cook, Kate Hudson, Katherine Hegel
Favorite Director: Martin Scorcese
Least Favorite Director: Tommy Wiseau
Movie Quotes: "As far back as I can remember, i always wanted to be a gangster" "People always say the same thing, they say you don't have to do this" "I'll be back" "Cut me Mick" "What's a lace curtain motherfucker like you doing in the staties?"

"I abandoned my child" "One gay beer for my gay friend and a normal beer for me because i am normal" "Welcome to the prime time Bitch"

"Does she see me? I wish i wasn't wearing this fucking shirt" "Jesus Joey" "Jesus Ritchie" "I'm not the guy you kill"
Latest Movie Review
Fear (1996)
ah the 90s. when flannel, bad facial hair....and Marky Mark were popular.