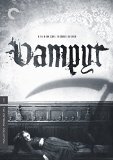 Vampyr - Der Traum des Allan Grey
This surreal, nightmarish film evokes pure terror
4/4 stars
The first time I heard of director Dreyer's amazing, nightmarish masterpiece, VAMPYR (1932), was that it was very similar to the surrealist tone of one of my favorite films ever made, David Lynch's ERASERHEAD (1977). This piqued my interest, and this film found itself near the top of my watchlist. But I was still wary to watch this film. I heard a...