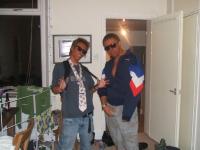 FilmCrave Points
| Activity | Points |
| --- | --- |
| Total Ratings | 598 |
| Total Reviews | 0 |
| Total Lists | 4 |
| Total Plots | 0 |
| Total Points | 628 |
Latest Friends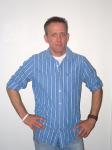 Mr. B.K. Tinney
Movie God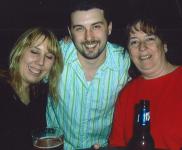 Josh C
Producer
Leuan's Information
Ranking Status: Director
Name: Mat Wilson
Gender: Male
About Me: Like learning new songs on my guitar. Not too big. Too much effort. I'm lazy. I hate working hard. But not hardly working. Im always bored. Yet everything comes alive at night. I rarely sleep. I love steve irwin. Like my own kin. I like football. Newcastle. I can play for 10 mins max. I like Skiing. Bust'a moves bitch. I like to drink. A lot. I hate Ring of Fire I like weed. Goes well with James and Hessom. I am negative. Everthings twice as nice. I hate inflation. "99's" being "£1.10" I like music. I wish i had an I-pod charger. I like to live my life like "Die Hard" I hate slow walkers. Move. I love snow. I hate summer. I love Meat. I hate Vegitarians. Sexism makes me laugh. Femanists are lesbians. I belive good things come to those who wait. Keep the faith. I live for the Wolrd Cup. You have no idea. I have the rare talent of lucid dreaming. Its like the matrix. I like being alone. I am a strong believer of morals. I hope to be immature for the rest of my life. I consider myself famous as i was in the first Harry Potter Film. It was Shit. If i had one wish, Morgan Freeman would follow me around, and narrate my life. Men think of sex every six minutes. I think of Christmas. I hate Cherry flavored sweets. I once compleated windows solitaire in 49 seconds. The Moomins scare the shit outta me. In 2006, Jim and I beat the English table football champions. Hell yeh. At 9:43pm, on the 18th of March 2008, I, Matthew Jack Wilson, solved my Rubiks Cube, that had gone uncompleted since its purchase, 28 years ago. xx
Interests: After much thought, i have managed to find two things i actully care about. Space, and Film. An odd mix. I also have a small appreciation for literature. This makes me sound clevur.
Movie Profile
Film I Love: Die Hard
Film I Hate: Last Year in Marienbad
Guilty Pleasure: Breakfast At Tiffany's
Favorite Genre: Sci-Fi
Least Favorite Genre: Romance
Favorite Actors: Gary Oldman, Bill Murrary, Anthony Hopkins, Robert De Niro, Bill Nighy
Least Favorite Actors: Laura Linney
Favorite Director: Martin Scorsese
Least Favorite Director: Michael Bay
Movie Quotes: "Yippie-ki-yay mutherfucker!"

"It caused him to blink more than usual, as if he found creation slightly more than he could accept."

"I'm glad to be with you, Samwise Gamgee, here, at the end of all things."
Recent Comments