1/4

3/4

3/4

1.5/4

1/4

2/4

3.5/4

3.5/4

3/4

1.5/4

2.5/4

3/4

1/4

3/4

2/4

0.5/4

1/4

3/4

3/4

2.5/4

2.5/4

1/4

1.5/4

3/4

2.5/4

Next 25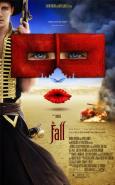 Fall, The (2008)
Beautiful Hollywood fantasy w/ a human heart.
3.5/4 stars
A breathtaking example of pure visual storytelling, Tarsem Singh's fantasy epic THE FALL plays out like a more bizarre and sometimes darker version of THE PRINCESS BRIDE. Shot in 28 different countries over four years and using no computer generated imagery, the scale and scope of the physical production is astounding. Despite its gigantic size and majestic scenery, there is a smaller and sometimes touching story at the center.
A stunt man named Roy is injured on set in 1920s Hollywood. Broken physically and psychologically, he meets and befriends a young girl Alexandria who is also a patient at the hospital. He tells her a story to pass the time which transports them to a mythical timeless locale where five superhuman adventurers battle an evil tyrant, rescue princesses, and other daring feats.
Lee Pace plays Roy while newcomer Catinca Untaru is the kind and innocent Alexandria. Their friendship forms the soul of the movie and adds a warm connection to the various locations used for the impossible story.