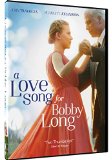 A Love Song for Bobby Long
Scarlett Johannsen Rocks!
4/4 stars
I never would have guessed in a million years that Scarlett Johannsen could have pulled of such a great performance. Her role is worth the price of admission alone, but wait, John Travolta as a washed up Literature Professor? Hands down one of the most enjoyable roles I have seen him play in years, and speaking of years, how did this film come out...