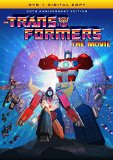 The Transformers: The Movie
The one and only Transformers The Movie...
4/4 stars
Yes, I said it. This is the ONLY Transformers movie. Michael Bay should be drawn and quartered for his atrocity of a movie. For those that are too young to remember, or those that just have no clue (I'm looking at you Bay, Mr. "I never saw the show, but I love cars!"), this was the movie that fulfilled the expectations of my generation. It had act...