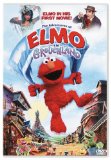 The Adventures of Elmo in Grouchland
Adults Rating Movies Aimed at Preschoolers
4/4 stars
.5 out of 4! Come on people, loosen up! Seriously, this movie is perfect for what it is trying to do, which is be a movie for little children, toddler to pre-K, and it does a pretty good job of doing that and eliciting viewer response. It will drive an adult crazy if there is more than one little kid around making raspberry sounds to aid Elmo in h...