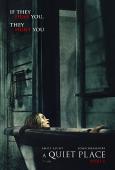 Quiet Place, A (2018)
Silence is survival...
4/4 stars
Itís not often a truly unique movie experience comes along. ĎA Quite Placeí is definitely one of those. Making his first big-screen debut, John Krasinski also served as co-script writer, and is the lead character in this film. Starring alongside his real-life wife, Emily Blunt, he delivers an earnest and engrossing story. At 90 minutes, this film ...