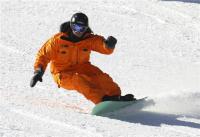 FilmCrave Points
| Activity | Points |
| --- | --- |
| Total Ratings | 4 |
| Total Reviews | 0 |
| Total Lists | 3 |
| Total Plots | 0 |
| Total Points | 34 |
Latest Friends
Nick
Producer
carverboy's Information
Ranking Status: Aspiring Actor
Name: Tommy Mundane
Gender: Male
Current Area: Unicoi, TN
Home Town: Beech Mtn., NC
Education: School of hard knocks
Employer: self
Position: behind and not catching up!
About Me: I love to snowboard I love to watch movies. What can I say Im a simple man.
Interests: snowboarding,Mtn bike,road bike, trail running
Movie Profile
Film I Love: Love Song for Bobby Long
Guilty Pleasure: Tremors
Favorite Genre: Sci-Fi
Least Favorite Genre: Musical
Movie Quotes: "Trust you Bob, your wearing a belt and suspenders, You don't even trust your own pants"