4/4

3.5/4

3/4

2/4

3/4

2.5/4

3/4

3/4

2/4

3/4

2/4

2/4

2.5/4

3/4

3/4

2/4

3.5/4

2.5/4

3/4

3.5/4

3/4

2.5/4

0.5/4

2/4

2.5/4

Next 25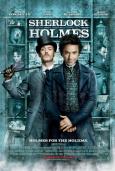 Sherlock Holmes (2009)
Holms And Watson, Never Done Better
3/4 stars
Director Guy Ritchie is known for his action films ('Lock, Stock And Two Smoking Barrels' and 'RocknRolla'), so there's no surprise that his take on this iconic fictional character would include some measure violence and mayhem. No - the surprises come from the complex characterizations, the historical setting, and infusion of the aforementioned action element into what still is an intellectual 'Sherlock Holmes'. Ritchie has managed to execute a delicate balance between flying fists and perplexing puzzles in a film that also carries a fairly accurate backdrop of late 19th century London with a story line that demands the viewer's attention.

Robert Downey Jr ('Iron Man', 'The Soloist', 'Tropic Thunder') plays the primary character, Holmes, to great effect. In this updated take, his character is at once raffish, brilliant, eccentric and bold. We also get a hint of Holmes' dark side where he can also be reclusive and prone to some measure of self-abuse. Downey manages to portray all of these elements without the slightest hint of exaggeration. Of course, without Watson, there would be no Holmes; so for this film, Jude Law ('Road To Perdition', 'Cold Mountain', 'The Talented Mr. Ripley') was chosen to fill those shoes. A classic yin-yang, Watson is everything that Holmes is not: serious, natty, and every inch a gentleman. But that's not to say that Law's character is not without his own flaws. In fact, the core element of this movie is how their characters are shown to be co-dependent, each easily anticipating the other's moves or thoughts.

Supporting players include Rachel McAdams ('The Family Stone', 'The Time Traveler's Wife') as Holmes' romantic interest and muse, Irene Adler. Having a shady past and no small measure of trickery herself, Ms. Adler unwittingly proves to be central to the events Holmes and Watson must navigate to solve their case. The nemesis in this case is the evil Lord Blackwood, played by Mark Strong ('Body Of Lies', 'RocknRolla'), who appears to have some satanic powers and is more than a match for Detective Holmes and his deductive reasoning.

More than living up to the previews, 'Sherlock Holmes' didn't disappoint. The screenplay provided by Michael Robert Johnson and Anthony Peckham has combined elements of comedy, drama, and action, along with the requisite puzzle-solving ingredient to make a film that is both visually interesting and quite entertaining. That's not to say the film is perfect, I did note a couple story elements that didn't quite add up, but these are so minor that they didn't really detract from the overall experience. There was also a not-so-subtle hint of a potential sequel, but this movie stands very well on it's own. So get to the theater, because the movie is afoot!