2.5/4

3/4

3/4

2/4

3/4

2.5/4

3/4

1.5/4

2/4

2/4

1.5/4

2.5/4

3/4

3/4

2/4

2/4

3/4

3/4

2.5/4

2.5/4

1/4

3/4

3/4

1.5/4

1/4

Next 25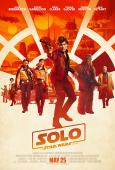 Solo: A Star Wars Story
"I have a good feeling about this!"
3.5/4 stars
The galaxy's most infamous smuggler gets the origin story treatment in this slick action packed adventure. Director Ron Howard not only managed to make a fun movie out of a notoriously troubled production but add further depth to Star Wars' most popular character-after Darth Vader.
Alden Ehrenreich is a natural fit for a younger Harrison Ford while Donald Glover nearly walks away with his smooth impersonation of Billy Dee Williams. This pair of promising young actors are bolstered by strong supporting work by Woody Harrelson, Thandie Newton, and Paul Bettany. If there is a weak link among the cast, it's Emilia Clarke in the thankless role as the love interest. She does some interesting things in the end but it's too little too late by that time.
The action scenes are exciting, thrilling, and the seedy grimy criminal underworld setting is a unique setting to distinguish it from other Star Wars films. The third act is smaller in scale than the grand space battles or operatic lightsaber duels. I found this refreshing as it fit in with the film's style as a crime drama-only set in the Star Wars universe.
It's unfortunate that negative attention by the film press and disgruntled fanboys have resulted in a lukewarm box office performance for SOLO. The film is far better than it has reason being. For those that pine for the days that Star Wars meant pure escapist entertainment, SOLO is a good choice.