3/4

3.5/4

3/4

3/4

1.5/4

2.5/4

3/4

1.5/4

3/4

1.5/4

3/4

3/4

1/4

2.5/4

1.5/4

3.5/4

2.5/4

2/4

3/4

2.5/4

3/4

1/4

3/4

1.5/4

3/4

Next 25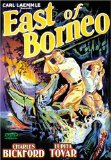 East of Borneo

1/4 stars
EAST OF BORNEO is strictly for purists of old-fashioned matinee adventure movies only. The poster and summary sound entertaining enough.
A woman ventures into the uncharted jungles of the Orient in search of her missing husband. But when she locates him, he is the prisoner of a dastardly despot.
It still sounds interesting and the fact that they made the protagonist female is rare for these types of films. It's unfortunate that EAST OF BORNEO is a shoddily made piece of work. The sets seem expensive and some scenes in the jungle are spooky. But the quality of the footage is awful looking.