3/4

3.5/4

3/4

3/4

1.5/4

2.5/4

3/4

1.5/4

3/4

1.5/4

3/4

3/4

1/4

2.5/4

1.5/4

3.5/4

2.5/4

2/4

3/4

2.5/4

3/4

1/4

3/4

1.5/4

3/4

Next 25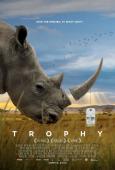 Trophy
Would you like a side of Lions with your Rhino?
3.5/4 stars
A somber and chilling look at the hunting industry and its impact on wildlife conversation for worse and sometimes even better. Though the latter is a bit of a stretch. Big game hunters, game wardens, ecologists, breeders, and African civilians are shown to have different thoughts on the matter; no surprise.
What is enlightening is the entrenched dependency on big game hunting and safari clubs in otherwise poor African countries. It does raise interesting questions about the limits of what counts as sport and what is just wanton slaughter.
Seeing the film would make it seem obvious. When the hunters literally engage in overkill, I would say it's cruel, abhorrent, and wrong. It is horrific to see a majestic elephant shot in the head while it's dying or a crocodile pulled from a lake then shot in the head as well.
The implications made in the movie suggest that industrialized means of corralling and farming have enabled a sort of 'canned hunting' worse than before. Just more 'good' news.