3/4

2/4

3.5/4

1/4

3/4

3.5/4

3/4

3/4

1.5/4

2.5/4

3/4

1.5/4

3/4

1.5/4

3/4

3/4

1/4

2.5/4

1.5/4

3.5/4

2.5/4

2/4

3/4

2.5/4

3/4

Next 25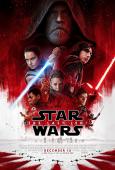 Star Wars: The Last Jedi
'The Last Jedi' - Epic, experimental, awesome.
3.5/4 stars
The Force Awakens brought audiences back to Star Wars and what they love. Rogue One put the 'War' back into Star Wars. The Last Jedi brings back the mythic elements and the epic cosmic scale of the long running space opera franchise.

The First Order is winning and the Resistance forces are on the run from the increasingly (and absurdly) gigantic doomsday weapons hot on their trail. Rey, Finn, and Poe all come to their own conclusions to how the war can be won. Rey ventures to bring Luke Skywalker back into the fight; Finn goes on a solo spy mission, and Poe well, he just wants to blow things up. They have to contend with cautious military commanders, the evil machinations of Supreme Leader Snoke, and the vengeful near mad Sith apprentice Kylo Ren.

Compared with J.J. Abrams' direction in the entertaining TFA and even the somber Rogue One, The Last Jedi is the first Star Wars film that feels genuinely cinematic in scale thanks to director Rian Johnson. There are action scenes and scenic shots that are so vast that they are only suitable for a theater projection. One moment in particular is the most jaw dropping shot since the destruction of the second Death Star in Return of the Jedi. The tone and style of the movie does take itself pretty seriously. But at the same time, it's perhaps the funniest and offbeat Star Wars movie since Return of the Jedi. Rian Johnson is also not one to shy away from surprise plot twists and new directions for certain characters. That is probably the most refreshing thing about 'The Last Jedi'.

The cast is excellent all around. Mark Hamill hasn't had material like this since RotJ and delivers a strong dramatic performance. In her final screen role, Carrie Fisher is a commanding yet almost maternal figure as Leia Organa. Out of the newcomers, actors like John Boyega and Oscar Isaac are fine but once again, it is both Adam Driver and Daisy Ridley that do amazing jobs as Kylo Ren and Rey.

'Star Wars: The Last Jedi' once more proves that Disney knows what they're doing with the franchise and more importantly, shows they're willing to take risks for the better.