3/4

3/4

1.5/4

1/4

2/4

3.5/4

3.5/4

3/4

1.5/4

2.5/4

3/4

1/4

3/4

2/4

0.5/4

1/4

3/4

3/4

2.5/4

2.5/4

1/4

1.5/4

3/4

2.5/4

2.5/4

Next 25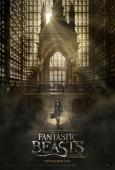 Fantastic Beasts and Where to Find Them
How Harry Potter became fun again!
3/4 stars
The Harry Potter movies might be finished but the magic lives on in this charming spin-off with just as long a title. Eddie Redmayne plays the eccentric wizard Newt Scamandar who collects and cares for exotic magical creatures. But once arriving in 1920s Manhattan, they escape and he must enlist the help of a hapless baker (Dan Fogler) and two plucky sisters (Katherine Waterston, Alison Sudol). These four main characters are all interesting and work well together, adding a lot of heart to the plot. There's appearances by Colin Farrell as a sinister villain, Samantha Morton as an anti-witchcraft crusader, and Ezra Miller as a troubled boy with a secret past.
Despite the odd presence of these darkly drawn supporting characters, the story is lighthearted and recaptures the whimsical spirit that some of the later HP movies lost. The magical creatures featured in the movie are all imaginatively designed and the wide variety allow for some creative action scenes. Easily the best parts of the film.
The Roaring Twenties setting is lovingly rendered and allows for a different setting compared with Hogwarts. A good example is a fun side trip involves a trip to a speakeasy frequented by goblins, trolls, and witches that is owned by a gangster goblin (Ron Perlman perfectly cast).
The film does boil down to the typical CGI overloaded climax you'd expect in a Harry Potter movie but that's not the end game. What still matters by the end are the characters' relationships with each other and the friendship that has formed.
It's been said that director David Yates had to sacrifice his creative input for The Legend of Tarzan to make Fantastic Beasts and Where to Find Them as best he could. While I enjoyed that particular Tarzan film more than others, I'm glad he decide that this ought to be the better film. It clearly shows.