3/4

2/4

2.5/4

3/4

3/4

2/4

3/4

2.5/4

3/4

1.5/4

2/4

2/4

1.5/4

2.5/4

3/4

3/4

2/4

2/4

3/4

3/4

2.5/4

2.5/4

1/4

3/4

3/4

Next 25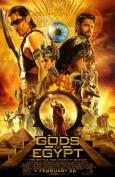 Gods of Egypt
Alex Proyas, what happened to you?
1/4 stars
GODS OF EGYPT is one of those bad movies that comes around once once in a while.
Overblown in every sense of the word and it doesn't hide the poor script, cheesy effects, and strangely off kilter performances from most of the cast. It's almost like a game to determine which actor knows they're in a bad movie or not. For a two hour feature film, the dialogue is and pacing is rushed to the point some characters don't seem to catch a breathe between saying their lines.
From a visual standpoint, the movie's reported budget of $140 million does not look good; the 1999 Mummy remake had better CGI and it's almost twenty years old. Still, the visual palette is bright and colorful instead of dark and dreary for a change.
GODS OF EGYPT certainly isn't a good movie but to its credit, it does have a high energy and spirit that revels in its own madcap stupidity. Some performances like Chadwick Boseman and Gerard Butler are so ott it's camp classic material. Nikolaj Coster-Waldau isn't given the best role to work with but he's charming enough and gets a few choice one-liners.