3/4

1/4

1.5/4

3/4

1/4

1/4

2.5/4

1.5/4

2.5/4

3.5/4

3/4

2/4

3/4

2/4

3/4

3.5/4

1/4

3/4

2.5/4

1.5/4

3/4

3/4

1.5/4

3/4

3/4

Prev 25 | Next 25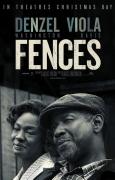 Fences
Fences - Review
3/4 stars
"Some people build fences to keep people out, and other people build fences to keep people in".

'Fences' is what I call an "actors movie". Great acting all round, good story, and a easy straight forward narrative. Other than that, it falls flat. Denzel directing is bland and the film has a lot of pacing issues, as I felt the runtime. Of course this was based on a stage play and it sure feels like it even watching it. Because every monologue has to be shout and be big like a stage performance, but at the same time fits certain characters. Kind of a mix bag really.

You could say the main goal was to make it look and feel like a play. I mean, many movies have done it, but did it so much better. It got pretty repetitive after awhile and has a rusty flow.

While a movie adaption of 'Fences' wasn't really needed, but it's the performances and story that keeps things a float. Honestly, this is some of the best I've seen from Denzel Washington and Viola Davis. Both delivering powerhouse and unstoppable performances. It doesn't shy away from dark themes and I know a lot of people will be uncomfortable, but moved of what's be presented.

Just to be clear, I don't hate the movie, as it may seem. There's a lot to be liked and some may disagree with the points I brought up, which is totally fine.