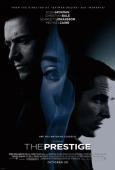 Prestige, The (2006)
Pledge, Turn, Prestige
3.5/4 stars
The Prestige was a fantastic film, not surprisingly with the actors that the movie round together. None the less, this film was one of the best that I've seen. The story was complicated, but by the end the story nearly explained itself. The amount of shock, back-stabbing, and illusions that went into the movie kept me on the edge of my seat. I ...