FilmCrave Points
| Activity | Points |
| --- | --- |
| Total Ratings | 530 |
| Total Reviews | 18 |
| Total Lists | 6 |
| Total Plots | 0 |
| Total Points | 674 |
Latest Friends
GeminiSixty6's Information
Ranking Status: Director
Name: Jason Morris
Gender: Male
Current Area: High Point, NC
Home Town: Asheville, NC
Education: I have some college, but I got burned out and have taken a break. I have to be ready to go back and finish, or otherwise it will just be another waste of my time and money.
Employer: USPS
Position: HR - I handle retirements for the United States Postal Service. I work with extraordinary individuals, and I wouldn't trade it for anything in the world. I really love my job, and the people I work with.
About Me: I just really love movies. I have a library close to 500 DVD's. I try to go to the movies at least once a week. I just think it is a great artform, and a great means for one to express him or herself. Film is beautiful to me.
Interests: Other than movies I enjoy comic book collecting, reading in general, discovering new music, traveling, concerts, meeting new people, writing, football, basketball, working out, and whatever else interesting that I can fit into my already busy day.
Movie Profile
Film I Love: The Lord of the Rings: The Return of the King
Film I Hate: Dr. T & The Women
Guilty Pleasure: Milk, OREOS, blanket, and Batman Begins (in that order).
Favorite Genre: Sci-Fi
Least Favorite Genre: Anime
Favorite Actors: Matt Damon, George Clooney, Denzel Washington, Johnny Depp
Favorite Director: M. Night Shyamalan
Movie Quotes: One morning I shot an elephant in my pajamas. How he got in my pajamas, I don't know. --Animal Crackers, 1930

Badges? We ain't got no badges! We don't need no badges! I don't have to show you any stinking badges! --The Treasure of the Sierra Madre, 1948

Striker: Surely you can't be serious. Rumack: I am serious...and don't call me Shirley. --Airplane!, 1980
Latest Movie Review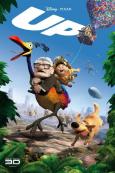 Up (2009)
Up, Up, & Oscar Bound

Yet again Pixar has another red hot hit on its hands! One that at the end of its box office run might very well eclipse Finding Nemo in total gross! Now, that is saying a lot because Finding Nemo had a total gross of around $340 million, and Up now has around $275 million. Up hasn't even reached its two month mark yet either. Seriously people if you like to gamble you can never go wrong betting on Pixar to come out with hit films year after year. It's like clockwork! A young Carl Fredrickson meets a young adventure spirited girl named Ellie. They both dream of going to Paradise Falls in South America, which has been coined "A Land Lost in Time." 70 years later, Ellie has passed away, and Carl remembers the promise he made …
Recent Comments