Watch Trailer
Add to List
Request Correction
Write Plot
Write Review
Movie Information
Quick Reviews
Full Reviews
Movie Lists
Movie Talk Posts
Snoogans - wrote on 2011-11-30 23:03
If you think about it, all of the Mission Impossible films are over-the-top action.  None of the action in them is grounded in reality, yet we accept it as part of the story because it's all meant as the usual escapism.  And generally with sequels, the action gets bigger anyway.
Snoogans - wrote on 2011-11-29 16:23
I'm fine with over-the-top action, just as long as the film supports and sustains it.
MattG5
Movie Star
MattG5 - wrote on 2011-11-29 02:54
i can't really compare this one to Mi: 2 because John Woo, kind of wanted to go over the top and do a cheesy film, which that one was very corny. But i actually enjoyed mission impossible 3, but mostly because im a huge Phillip Seymour Hoffman fan, and from the looks of the trailer, it still seems to have the over the top action, probably cheesy dialogue but i feel like that is what this franchise has always done. It'll be nice to see Jeremy Renner in this one too, maybe he can bring this film together more. 
Alex - wrote on 2011-11-28 23:22
Yeah it looks really good. But, might be a bit too over the top, like 2 was. Audiences now days want something raw and real, not unlikely crap. Please tom cruise, get it right this time!
Snoogans - wrote on 2011-11-28 23:20
Trailer was impressive.  It looks to be about as fun as 3, maybe even more.  With Brad Bird directing, I know we're in for some awesome action.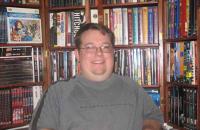 Chris Kavan
Movie God
Chris Kavan - wrote on 2011-11-28 11:29
I know I will see this - I don't understand why so many people were down on MI: III - I preferred it over the second one anyway. It will be interesting to see how this performs vs. Sherlock Holmes a week later.
Alex - wrote on 2011-11-21 23:05
So to me, this movie looks just as bad as MI III. Too much action, Tom Cruise trying to pretend like it is a good movie, and ultimately it fails miserably. I will still probably see it, but I don't have any hopes.
Post a Comment