3/4

4/4

4/4

3.5/4

4/4

3.5/4

4/4

4/4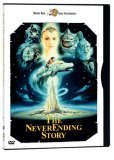 The NeverEnding Story

3.5/4 stars
I survived The Nothing and all i got was this crappy Auryn!
This film will have a place in my heart forever. The characters are fun and imaginative!!
A few of my personal favorites are Teeny Weeny played by Deep Roy (Return to Oz, Charlie and the Chocolate Factory) and Falkor the luckdragon.
Unlike most fantasy flicks, this one had a real sense of danger and despair.
They also did a great job adding a dark element in the form of the wolf-like creature G'mork. It used to scare the He-Man underoos right off of me.
Last but not least, i have to mention the awesomeness that is the theme song by Limahl, lead singer of Kajagoogoo. For further proof of said awesomeness check out the cheesy goodness that is the music video!!