4/4

3.5/4

3/4

2/4

3/4

2.5/4

3/4

3/4

2/4

3/4

2/4

2/4

2.5/4

3/4

3/4

2/4

3.5/4

2.5/4

3/4

3.5/4

3/4

2.5/4

0.5/4

2/4

2.5/4

Next 25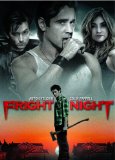 Fright Night (2011)
Decent Remake
2.5/4 stars
I'm always on the lookout for a good horror flick, so I was pleased to see this remake show up in theaters. 'Fright Night' looked to be a refreshing change from all that teen angst in the 'Twilight' saga (sorry, Twi-hards, but it's time to stop hogging the movie fountain) and the seemingly endless sequel machines like 'Final Destination' (doesn't final mean all done?) and 'Saw' (cut to the chase already!) The original 'Fright Night' (1985) was a decent film, but was not all that remarkable, so I wondered just what might have prompted this effort. For me, having Colin Farrell cast as the vampire was enough to make me want to check this out.

This remake stays very close to the original story about a Las Vegas High School student, Charlie Brewster (played here very aptly by Anton Yelchin) who is trying hard to fit in with the cool kids and leave his dorky past and pals far behind. Enter the new but mysterious next-door neighbor, Jerry Dandridge. Colin Farrell ('In Bruges', 'The Recruit') nails this part so well; you'll tense up just by seeing him show up in a scene. If his fangs aren't enough to scare you, his predilection for watching episodes of 'The Real Housewives of New Jersey' might (yes, I'm joking). Christopher Mintz-Plasse ('Super Bad', 'Year One') plays Charlie's discarded nerd-friend, Ed, and struggles to gain Charlie's attention with proof of Jerry's supernatural, murderous activities. Added to the mix is a low budget Vegas magician/entertainer, Peter Vincent, who is a supposed vampire expert. David Tennant is cast in this part that had Russell Brand written all over it). Toni Collette ('Little Miss Sunshine') appears as Charlie's clueless Mom; and Imogen Poots is Charlie's hot girlfriend.

Now we're talking vampire movie here, so this is just pure entertainment, not Oscar material. With that in mind, I thought 'Fright Night did a pretty decent job of delivering the goods. Screen writer Marti Noxon (whose pedigree includes 'Buffy The Vampire Slayer' series) delivers a script with smart and clever dialog that keeps things slightly tongue-in-cheek without feeling campy. She also threw in a few cultural references like 'Scoobie-Doo' and 'Dark Shadows' which worked really well. Director Craig Gillespie keeps things moving a good pace and makes judicious use of special effects that make this more enjoyable. 'Fright Night' also has some interesting song choices, especially Hugo's '99 Problems' for the closing credits.

All in all, 'Fright Night' felt a lot like predecessors 'Lost Boys' and 'An American Werewolf In London', but just not as memorable in the long run. What's the difference? Casting? Effects? Sound track? It's hard to say, but probably a little of each of these. Little tweaks to the supporting cast (like Russell Brand); some more scenes of Jerry doing inhumanly possible feats; and maybe a few more popular but subject related tracks of music might have made the difference for me. At any rate, it was still a pretty good effort and if you're a fan of the genre, you probably wont be disappointed.