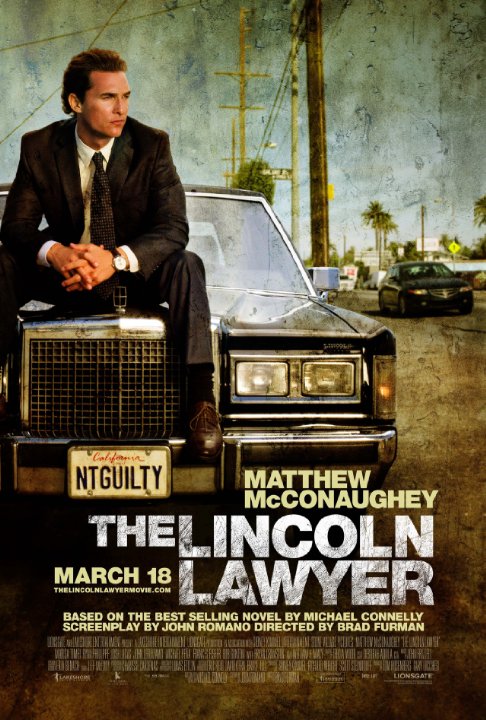 The Lincoln Lawyer
Good Adapation Of Book
MovieMike - wrote on 12/22/11
It's refreshing to see Matthew McConaughey in something other than a romantic comedy for a change. Not to worry ladies, the shirt comes off in at least one scene, so you're still getting what you expect. In 'Lincoln Lawyer', McConaughey plays defense attorney, Mick Haller, a slick, conniving lawyer who works all the angles and is obviously in the trade for the payday. McConaughey practically wears this part like a comfortable pair of slippers and the audience is immediately in tune with his character and motivations.

Joining him is Marisa Tomei ('The Wrestler', 'Wild Hogs', and yes, 'My Cousin Vinnie') as his ex-wife, Maggie McPherson. While they are supposed to be divorced in this, you'd never know it from their actions and exchanges, other than McConaughey doing the part-time dad bit for the daughter they had while together. Also on board are Ryan Phillippe ('Crash', 'Cruel Intentions'), as the enigmatic defendant; and William Macy ('Wild Hogs', 'Jurassic Park III', 'Fargo') as McConaughey's go-to investigator.

Based on the novel by Michael Connelly (also wrote 'Blood Work'), 'Lincoln Lawyer' makes the transition to the screen very well thanks to the screenplay by John Romano ('Nights In Rodanthe'). As the story unfolds, we see Mick Haller taking what appears to be a slam-dunk case, but then realize he's being played and may be in way over his head. While the legal field has been the subject of numerous films ('The Firm', 'Absence Of Malice', 'To Kill A Mocking Bird' and scores more), 'Lincoln Lawyer' manages just enough twists and intrigue to avoid that 'been-there-done-that' feeling.

Directed by Brad Furman, who also helmed 'The Take' (which was previously panned here by moi), 'Lincoln Lawyer' shows an incremental improvement over his previous effort. However, his filming style is still a bit uneven and some of the courtroom scenes lack the punch they should have carried. Other than that, this was great entertainment and will have you on your toes trying to predict each turn.